WOW! What a month it's been!
Wait…. You say I haven't posted in over a month? How long? About six months? Yikes. Sorry about that, readers. I have no other excuse for that other than big plans for the future have taken up most of my time. That, and the day job, and having to take on the responsibilities of an adult. (Why must I adult? Can I not adult today? No? Okay then.)
Those big plans will have an announcement of their own in the near future, once details have been finalized. But, I guarantee you, they are BIG. At least for me. 🙂 I'm planning on writing on here more frequently, but don't hold me to it. I may have a sprained wrist from all the typing I'll be doing soon.
Anyway, this post isn't about me. It's about two writers, with a hope, a dream, and a Kickstarter. These two writers are Tee Morris and Pip Ballantine. They are not only my friends and mentors, but also my role models and idols. (Lucky me, huh?) They initiated a Kickstarter in the hopes of self-publishing book 5 in their popular Ministry of Peculiar Occurrences series, titled The Ghost Rebellion. While I have loved their writing pre-Ministry, the MoPO series has always had a close place in my heart. I love the characters (the main characters are my favorites. Wellington, because I think he's cute when he's nervous. and Eliza, because she's a fiery loose cannon who doesn't care what others think [a trait I wish I had]. Just my opinion though), I love the intricate plots, and I love the firepower (explosions, gun fights, advanced cars that certain characters underestimate at first *coughcough*Eliza*coughcough*). The storylines are so well written and had me hooked during that first scene in Phoenix Rising, with my chills mirroring the ones the characters were having in that cold tundra.
Their Kickstarter was mainly made with the just the 5th book as their main goal. They had stretch goals that included special models for covers, publishing the SIXTH book, AND a deviously inappropriate novella entitled Countless Hues of Crimson, which has connections to the main series, but I am sworn to secrecy as to the details (Not really; I only know how it connects, and pretty much anyone connected to MoPO knows that). I told them from Day One: "You will make it to that last goal. I don't doubt it for a second."
They said: "We'll see."
Anyway, the Kickstarter started out strong. They had bursts here and there, with some weekends gaining upwards of a couple grand between Fridays to Sundays. They actually reached their initial $6000 goal, which ensured the publication of The Ghost Rebellion.
I said: "See? You got that far that quick! I am positive you'll reach that last goal!"
Them: "We're going to be cautiously excited. You can be overly excited for us."
As the Kickstarter progressed, they reached their first Stretch goal, to get specific cover models for TGR, very soon after.
Me: "I KNOW for a FACT you will get that ultimate end goal."
Them: "We might, but we're not going to get too excited. I looks like it may be a possibility though."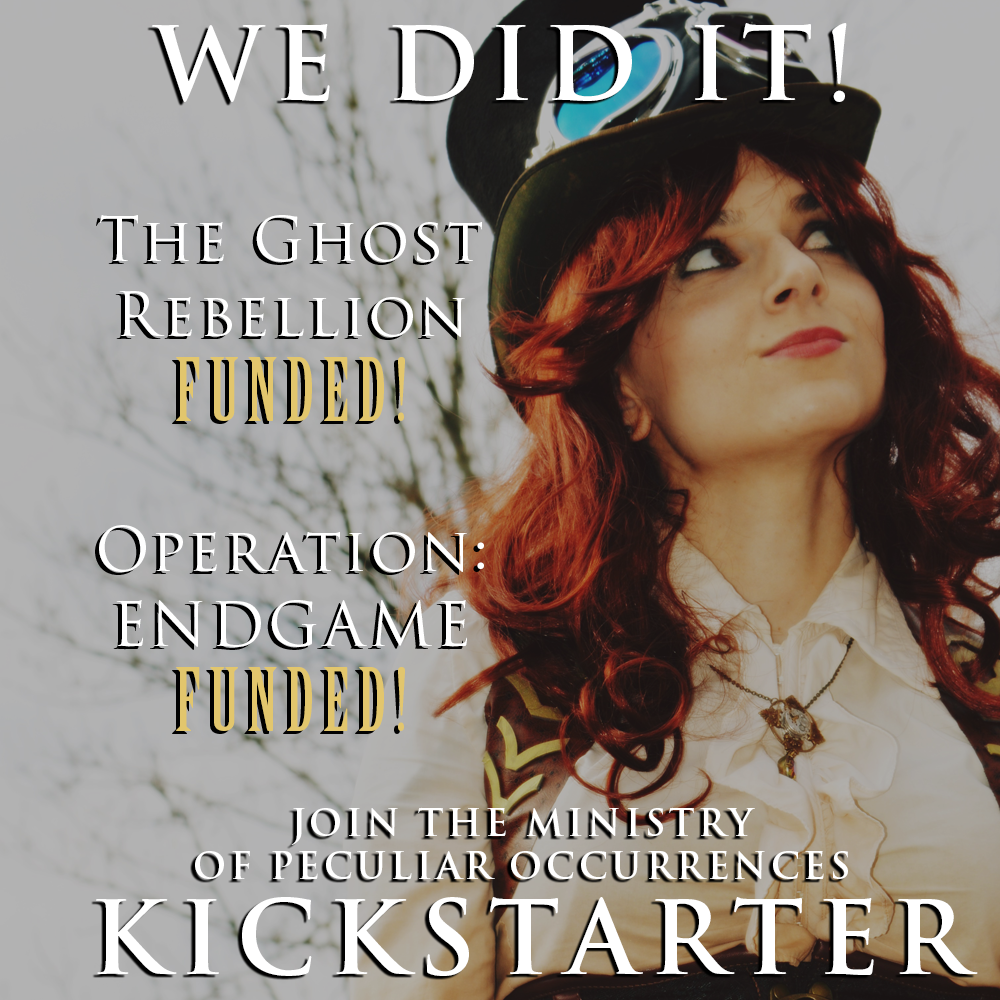 Last Sunday, they reached their next stretch goal, which, my friends, was to be able to publish the SIXTH and FINAL book in the MoPO series, OPERATION: ENDGAME!!! It wasn't until then that the Ministry 'journalists' started getting excited. Via Periscope, they uncorked champagne, made a fire pit, and lamented the lack of marshmallows. They started talking about Countless Hues of Crimson, with vague, interest-peaking details coming to light. That goal would become reality at $20,000, a full 5 Grand from their Operation: Endgame goal.
Me: "You still have a week for that last goal. I know you'll get there. 100% positive!!"
Them: "Operation: Endgame is a definite. We don't know if we'll get to CHoC, but at least we have that. It's definitely a nail-biter though."
……
Can you imagine my eyeroll of disbelief? I have told them for YEARS how big the Ministry was. You'd think they'd know by now, but they still doubted their abilities to write an unbelievable story full of twists, turns, and the adventures of two unlikely agents. Remember, I told them from DAY ONE that they had enough support that they could do this and THEY STILL DOUBTED!!
Guess what?
Yesterday afternoon, I get a chat message from Tee:
"And $20k."
"And 5 hours to go."
"You told me so."
Followed by an appropriate GIF.
I have not let him forget it in the last 24 hours. It's actually kinda fun, and though I know it annoys him, I do it for a reason. I want him to remember this amazing, unbelievable victory whenever he doubts his writing. I want him to remember earning over 21k in 30 days using nothing but the power of the MoPO fans and the epicness that is the internet and social media.
As Lucian would tell him, "Keep Faith." All he has to do is keep faith and know that what he does has made a difference in not only his life, but has made an impact in the lives of many others, as seen by the results of this journey.
It's been a wild ride, and it's only going to get wilder.
To Eliza and Wellington, I can't wait to see the end of this adventure.
To Tee and Pip, congrats on such a sweet-tasting victory.
Oh, and  I told you so. 😉